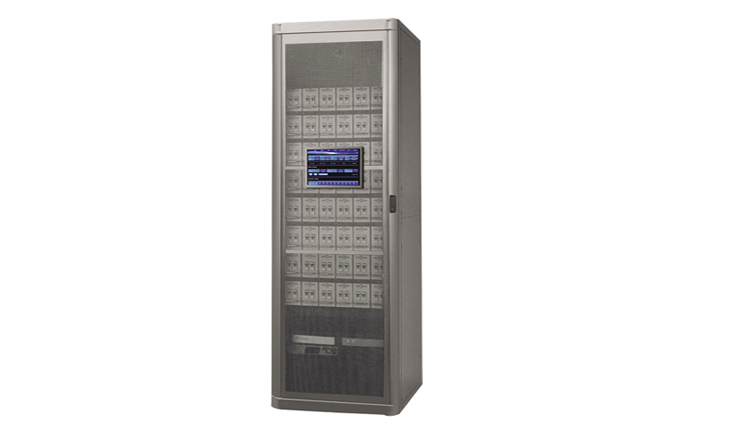 DR-S60D,DR-S72D,DR-S96D Network Intelligence Lighting Silicon Rack
Update: 2015/7/16 View:
Brand:

CEE

Type:

DR-S60D,DR-72D,DR-S96D
Introduction
DR-S60D,DR-72D,DR-S96D Network Intelligence Lighting Silicon Rack
Function and performance:
Distinguished function: two built-in embedded Ethernet in and 1024 degree triggering system, all for double heat back-up.
Supports the network to be set up long *rang sub-master, compelling with IEE802.3 Ethernet protocol.
Standard double RJ-45network interface and double DMX interface dispose (fibre interface can be added)control input signals can receive 2 groups of DMX signals at the same time, make up many kinds of control methods.
Voltage compensate automatically, when the input voltage change, the output voltage can keep unanimity automatically.
Automatic following function of power frequency.
Intellectual fan control, adjust the speed of air blower according to the temperature.
Reporting function: can feedback and control the working state of every dimmer, working parameter of every channel.
Live lighting control function, realize self-control, beam-focusing, emergency lighting.
Record 10 scenes, edit playback function 10 lighting curves (such as linear, switch ,several powers)and customize possible.
Adopt imported high quality 80A controllable silicon, can set the preheat of every channel(0-100%)and the limit amplitude (0-100%)independently.
96/72/60 channel output(6kw/channel).
Technical parameter:
Input power supply: Three groups of 5 wire system /single-phase three-wire systems,50Hz±2Hz,and single-phase operation voltage 220V±10%AC.
Control connection: Double DMX-512(1990),the double RJ-45 network connection (coca buys optical fibre connection).
The ambient temperature:-10℃~+35℃,ventilates is good.
Relative humidity:20%~90%,does not have the mist and dust.
Atmospheric intensity of pressure : 86~106Kpa.
Order information:
| | | | |
| --- | --- | --- | --- |
| Model | Description | Size(mm) | Weight |
| DR-S60D | 60channel(6kw/channel),digit lighting | 565*600*1500 | 270kg |
| DR-S72D | 72channel(6kw/channel ),digit lighting | 565*600*1500 | 300kg |
| DR-S96D | 96channel(6kw/channel),digit lighting | 565*600*1900 | 360kg |