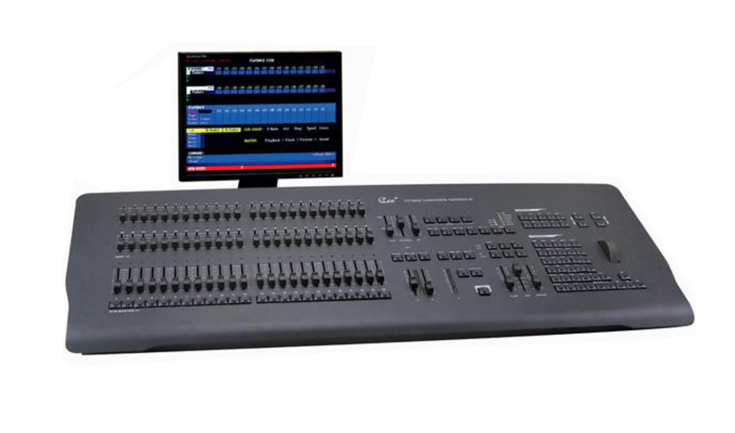 CP-500 "chameleon" English Computer Lighting Console
Update: 2015/7/16 View:
Introduction
Function and performance
●The first adoption of the multi-color background lighting keyboard for lighting console ,integrated with dimming and color moving. VGA monitor and English/ Chinese user interface, easy for virtually controlling.
●100-500 light channels are available ,maximum up to 500 light channels and 1024 DMX channels (512 SCR channels,512 color changer channels ).
●72 fades,36 centralized control channels (9 pages ),4 effect starters ,200groups and 99 macros,500 scenes control by automatic or manual .
●99 effects and up to 99 steps per effect, it can set up the operation direction ,effect style and electrical level effect ,fade time,9 lighting control curves (customize possible)
●9 different color movers can socket simultaneously
●Keyboard type instruction ,wheel for regulation and document type management .FLASH disk and 1.44 floppy disk backup,data safe for power back-out
●Military technique and component adopt .Dual power and dual machine backup function Backup machine can pre-store more than 100 scenes to secure operation.
●The machine can self-teat and self-exam ,easy for maintenance ,by extract decades' experience of lighting console in world ,the machine is easy for learning and use .
●Two standard DMX-512 output, optical-eclectic insulation output protection.
Technical Parameter
●Working voltage: AC220V±5% 50HZ±2%
●Output signal:DMX-512(1990)
●Environmental temperature : -20℃~+45℃
●Relative hunidity:20%-90%
●Working environment: Ventilating well,and where there is not a large amount of smoke and dust